I recently came to the realization that often the issue that we face when talking about who we label as non-collaborators often has more to do with whether they agree with us or not.  When someone agrees with us, we either assume they are collaborating or we really don't care because they are complying with our desires. 
This led me to a simple 2×2 matrix of mapping collaboration against agreement.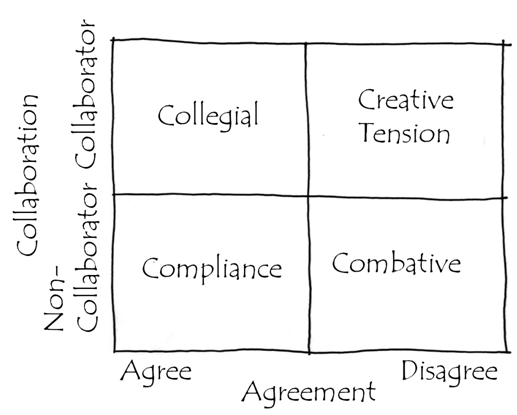 If someone wants to collaborate and is in general agreement with us, the atmosphere is collegial and we often call those people friends.
If they don't really collaborate, but agree with us nonetheless, then they are in compliance and not real obstacles.
if they are non-collaborators and also often in disagreement with us, they oppose us and will often be combative.  This is the category of non-collaborator that causes us the most challenges.
in my experience the most interesting situation occurs when there is active collaboration but sufficient disagreement .  This combination can be quite powerful as it generates a creative tension from the occasional conflict.
Focusing on the non-collaborating disagreers, what I see most often is an attempt to move the disagreers to the left into compliance, or to remove them altogether to keep team harmony.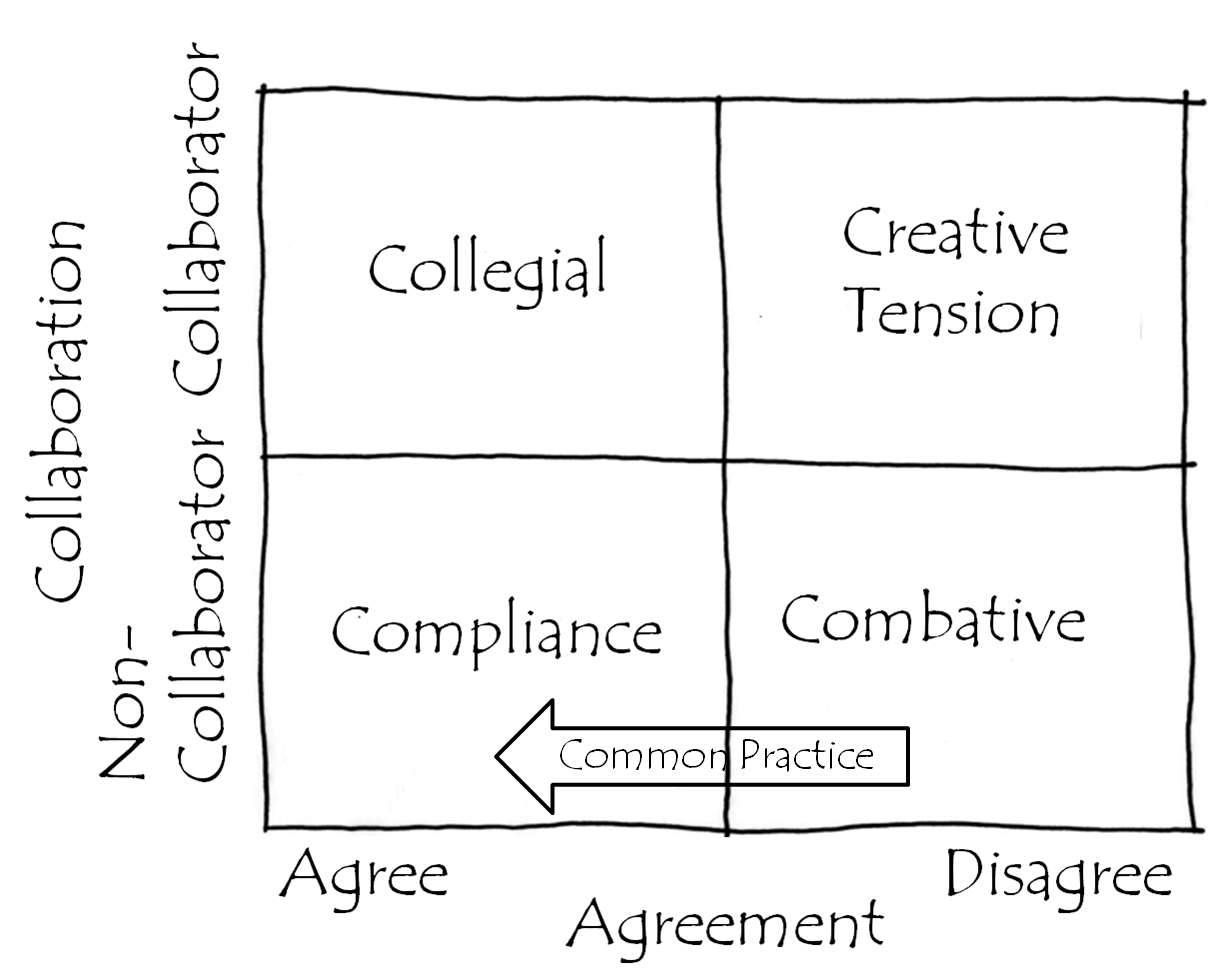 What can be far more powerful is to work to move them upwards towards collaboration and to work with the creative tension to generate more innovation.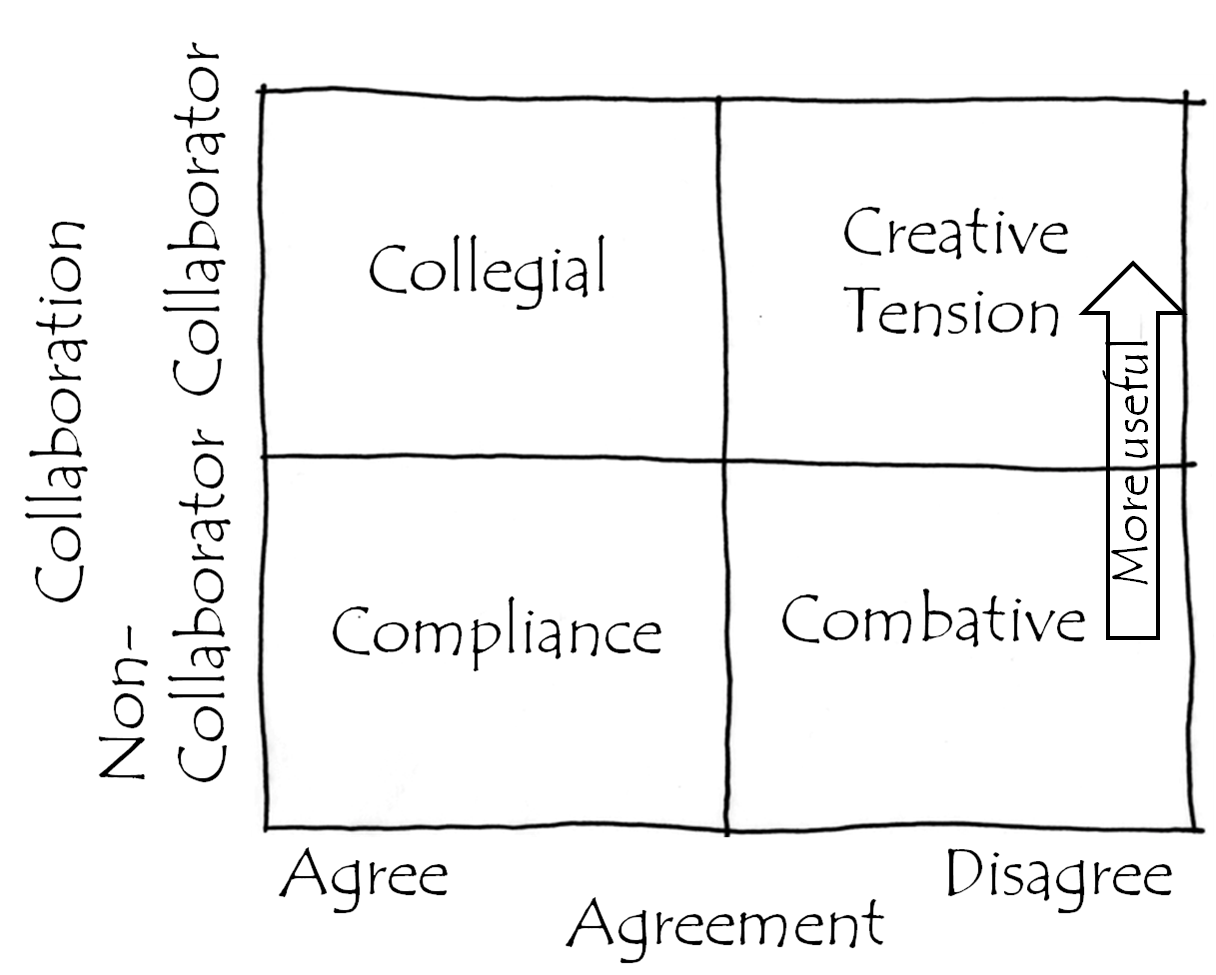 So how do we do this?
The first step is to look at why there is no collaboration.  Most likely it is because they have no desire to work with people that don't agree with them.  Things get even worse if the experience that they have is being pushed to the left towards agreement.  They feel that they are being ganged up on and that their opinion is not valued.  Why would they want to collaborate?   
That is why it is so important to show respect for all opinions.  Only through respect is it possible to build a culture of trust.  One key element of respect is that of listening.  If someone does not feel that they are being heard, how can they feel  that their views are being respected?
While it is possible to innovate without diversity, it is far too easy to fall into the groupthink trap.  A diverse environment with a culture of trust and respect will generate the creative tension that powers innovation and value generation.
Which brings us back to the complying non-collaborator.   Why are they not collaborating?  Quite possibly they aren't feeling that collaboration is worth their effort.  Maybe they generally agree with the direction but not sufficiently to risk their own personal safety.  Perhaps they have something to offer but realize that it is not fully aligned with the group.  In an environment without respect and safety it is very easy to shut these people down.  Since they generally comply we write them off as non-collaborators.    But it may be our loss as they may have something useful to offer.
Update: Kent McDonald and I took this blog posting and created an article for ProjectConnections here